Today, I would like to talk about mirror sliding wardrobes. My husband and I have always lived in fairly small homes. We live in one of the most expensive parts of the UK where house prices are astronomical and granted we could move elsewhere, but we love where we live. The compromise however is owning a smaller home than we would like.
So over the years, we have had to find clever ways to make the most of the little space that we do have. One of the first changes that we made was opting for wardrobes with sliding doors for our bedroom. At the time, we didn't choose mirror sliding doors and now I wish that I had. The added benefits of having mirrored doors would be a very worthy investment and I am now considering adding mirror panels to our wardrobe doors to get the same effect. Hindsight is a wonderful thing, right?
So why are mirror sliding wardrobes such a great option? Let's take a look at some of the benefits that they offer.
1. They Take Up Less Space
A traditional wardrobe with hinged doors needs considerably more space than a wardrobe with sliding doors. You need to factor in the space required to open the doors and this will inevitably eat into the floor space that you have available.
When you have a small bedroom and space is at a premium, this may not be desirable or even practical. Sliding doors can allow you to save space and have a better flow of traffic around the room without having to negotiate around open wardrobe doors.
2. They Can Make a Small Room Feel Larger
Because wardrobes with mirror sliding doors can reflect back what is in the rest of the room, they can help to create the illusion that the room is bigger than it actually is. The mirrored doors can basically trick the eye into thinking that the room extends further than it does due to the bouncing reflections.
3. They Can Make a Room Feel Brighter
In much the same way, mirror sliding wardrobes can help to make a room feel lighter and brighter. The mirror effect will help to bounce any available natural light around the room helping darker corners to feel brighter. For the best effect, try placing the wardrobe either opposite or adjacent to the window so that it can capture as much natural light as possible.
An alternative strategy is to place the wardrobe in such a way that it reflects the view outside of the window. In this way, it helps to create a feeling of inviting nature indoors which as we all know is good for our mental health and wellbeing. The added advantage is that you don't need to take care of the greenery as it's outside and takes care of itself. This of course only works if you have garden or countryside views out the window. It's not quite the same if it's a highrise block opposite.
4. It is a Practical Choice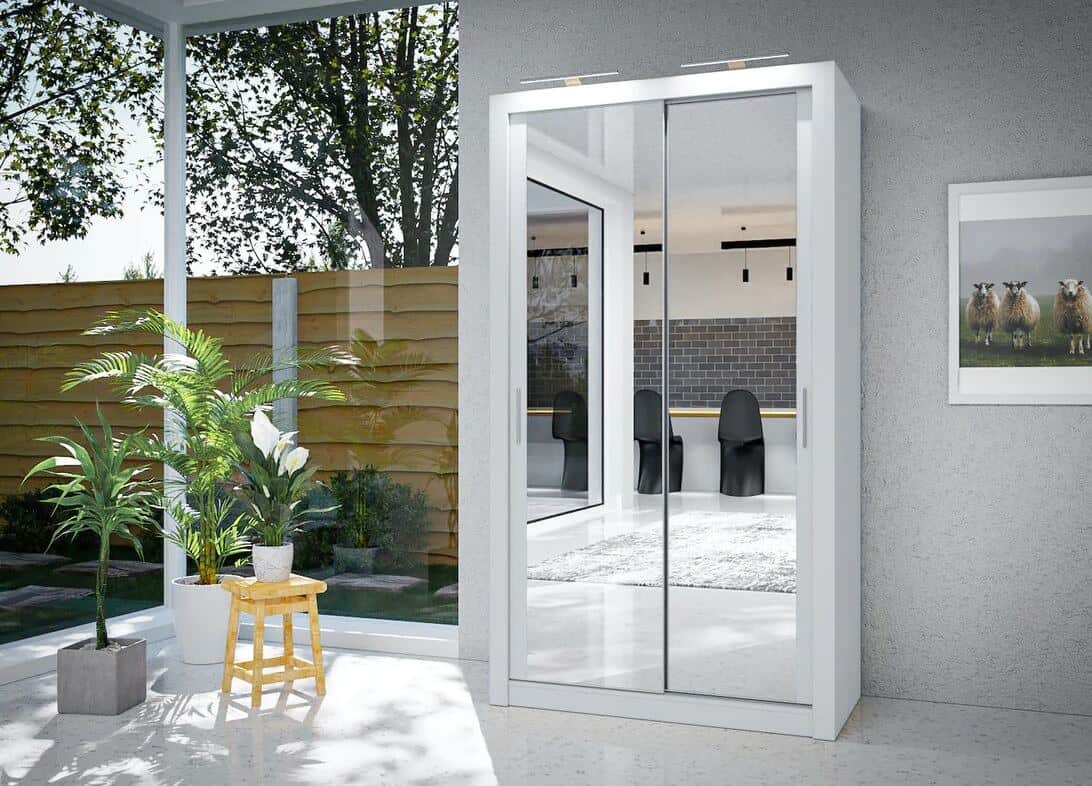 Choosing wardrobes with mirror sliding doors is also a very practical choice. In addition to the benefits mentioned above, there is obviously the fact that there is no need to find wall space for a standalone full-length mirror. The fact that the mirror is on the wardrobe door also makes it much easier to choose your outfits as you can immediately assess what looks good and goes together without having to move away from the wardrobe.
Retrieving your clothes from inside the wardrobe is also easier as there are no swing doors getting in the way.
5. They Offer a Modern Aesthetic
When it comes to style, a mirror sliding wardrobe works particularly well in a contemporary or modern setting. The minimalist design and sleek aesthetic mean that this style of wardrobe can be incorporated into many styles of room. There are usually myriad finishes and colour options to choose from too meaning that selecting an option that works for your home couldn't be easier.
So what do you think? Have you chosen mirror sliding wardrobes for your home? If so, was it due to the benefits discussed here or another reason? What do you like most about them? Let me know in the comments below.