I am so excited to share today's post with you guys! Just after Christmas my husband and I decided that it was time to do a mini livingroom makeover. I say mini makeover as it was actually the first room we tackled when we moved in back in 2013 so it didn't need much doing to it in all honesty. We were pretty happy with it, but I've always felt it wasn't quite finished. We choose to paint the walls in a beautiful shade of dark green (Dulux Moss Blanket) but I was a bit apprehensive about painting all four walls in such a dark colour as it's quite a small room and I'd only ever lived in magnolia homes before. So we opted to paint two walls green and leave two magnolia. Then in 2015, in celebration of National Wallpaper Week, we teamed up with Graham & Brown* for a decorating project whereby we used their beautiful Honolulu Palm wallpaper by Julien Macdonald* to cover one of the magnolia walls. This left us with one Magnolia wall, as you can see in the before picture above. We also had three massive canvasses hanging on this wall which we had brought with us from our previous, much bigger, home. They were too big for the space and I wanted to replace them with something more fitting. The new year provided us with the perfect excuse to make those little changes to our livingroom that we felt were really rather overdue.
We knew that the green was a colour we all loved and is going to be a massive trend in 2017 so we decided to paint that remaining wall in green too. It was a brilliant decision and makes the room feel far more finished now that the magnolia is gone. And to be honest it hasn't made the room feel any darker at all.
Another massive trend for 2017 is plants, whether that is real or faux, whether it is in artwork or textiles. You will find plants everywhere this year. This makes me so happy. I'm not really the outdoorsy type so being able to bring the outdoors in is a perfect solution for me. I find greenery and plants to be really calming and they help to create a lovely harmonious and balanced space. I've not got a good track record with plants though as I often tend to kill them.
The Honolulu Palm wallpaper* was originally my way of bringing more plants into the room without the risk of me killing them. However, I was inspired to put more time and effort into plants after reading the Urban Jungle Bloggers book. So I've slowly been enlarging my plant gang this year. It all comes down to choosing the kind of plants that fit your lifestyle and how much care you can give them.
We don't really have that many surfaces in our living room to accommodate our growing plant gang. Especially considering that we need to keep our plants out of reach of the kids. (Our youngest likes to dig in the plant pots and isn't adverse to sampling the soil every now and again…yuk!) So I bought a really lovely little wall shelf from Maisons du Monde * so we can display our mini cacti gang up out of harm's way. I also bought the copper footed cement planter * from there too. I think copper is a really lovely way to bring warmth into a room and although copper has been surpassed by brass this year, I much prefer the qualities of copper. And it looks great with the green, don't you think?
We have quite a lot of wood in our living room already and I love the warmth that wood can bring to a space. I think the materials that you choose to bring into a room really do help to dictate the overall feel of it.
One material that we decided to add to our living room in this mini makeover was cork. Cork has been increasing in popularity over the past few years and you can now find designers using it in very unexpected ways. We used cork tiles that I bought from The Range to create a cork wall in the corner of the living room.
I absolutely love the tactile nature of cork and it has provided us with a perfect place to display artwork or the lovely little pictures that our eldest daughter draws for us, or appointment cards or anything really that we need to keep track of.
We decided to replace the three large canvases with a gallery wall. I think I've mentioned here before that I have had a troubled relationship with gallery walls in the past. I love the way they look but I have a really hard time creating them myself. I have a thing for symmetry so I find it difficult not to create a really boring gallery wall.
But after I discovered Desenio I knew that I no longer needed to worry about my inability to create a beautiful display of artwork. Desenio is a Swedish-based business that was founded in 2010 and it offers the most wonderful selection of posters, prints and frames at affordable prices. It's really easy to choose your artwork on the site too. You can narrow it down by size or by category, or you can check out the bestsellers. You can also click on perfect pair to find suggestions of prints that work really well together.
There really is something for everyone on Desenio and I haven't stopped raving about this site since I first discovered it. I tell everyone I know about it because they really do sell some beautiful pieces.
One of the best things about the site though has to be the fact that they provide tips and ideas on how to hang a gallery wall. I found this so useful. They actually show you multiple layout options depending on the size of the wall space that you have available. Alternatively, you can check out how other customers have used their artwork in their own homes. There is endless inspiration so even the most unadventurous decorator can find the confidence to get creative.
I read somewhere once that the easiest way to plan your gallery wall is to create paper templates that you can position on the wall. That way you can move them around until you are absolutely happy with the layout. Since then I have always done this when hanging a gallery wall and it works a treat.
I was really impressed with the quality of the prints. They look fantastic on the wall. The frames I used are also from Desenio and I opted to mix up some black frames with some copper ones. They come with Perspex rather than glass which makes them nice and lightweight for hanging, and safer too obviously. But you would never know it's perspex to look at them.
I absolutely love the prints I've chosen and I would definitely recommend you check out Desenio if you're looking for some new artwork. I just wish I had more wall space at home.
So we've talked about some of the smaller changes we've made, now onto the big stuff. We decided it was time to change our sofa. We hadn't had our previous sofa for very long but my husband hated it and dreamed of having something cosier that he could relax on after a long, hard day at work.
For a while now I fancied getting a corner sofa or a chaise sofa so that we could create a cosy little nook in the corner of the room. So it was perfect timing when DFS got in touch and asked us if we would like to choose a sofa from their collection for our makeover. We'd had a DFS sofa previously and my husband absolutely loved it, in fact, he rather mourned its loss when I got rid of it (after eight years we needed a new one). So he couldn't wait to go sofa shopping.
Neither of us has ever been big fans of leather sofas so we immediately started looking at fabric sofas. We narrowed down our selection to about five gorgeous grey sofas, checked the measurements and headed off to our local DFS to test them out in person. I'm so glad we did as some weren't as comfy as we'd hoped, and one (our favourite) was actually far too big for the space we had available, although my husband loved it so much he wouldn't accept that it was too big.
We were having such a hard time narrowing it down to just one sofa that we decided to have a wander around the store while we gathered our thoughts. As we looked around we happened across the most gorgeous sofa that we knew immediately was perfect for our living room. The Caesar sofa in 100% natural leather jumped out at us as we rounded the corner. As we sat down on it we both knew we had found our sofa.
Having originally said we didn't want a leather sofa we had surprised ourselves. But this is no ordinary leather sofa. It's not cold to the touch like most leather sofas are and we won't stick to it in the warmer summer months. It's hard to explain but because it's not shiny, it doesn't really feel like leather. It feels more like a cross between fabric and leather. I really like the way the leather is not perfect either. You can see all the imperfections and marks and it looks lovely and worn already. It comes in four colours but we eventually settled on Ranch.
We've had our new sofa for about a month and a half now and my husband tells me practically every day how much he loves it. The angled backrest is really supportive whilst being super comfy and the wide armrests are really practical. The cushions have foam inserts which, according to the DFS staff in store, helps the cushions to keep their shape for longer.
Another added bonus is the fact that this sofa comes in two parts for ease of delivery. We have quite tricky access at home so the fact that the sofa came in separate pieces was a godsend. The delivery guys put it together for us in next to no time too. We are super pleased with our choice and have spent many happy hours snuggled up with the girls reading and playing since we've had it.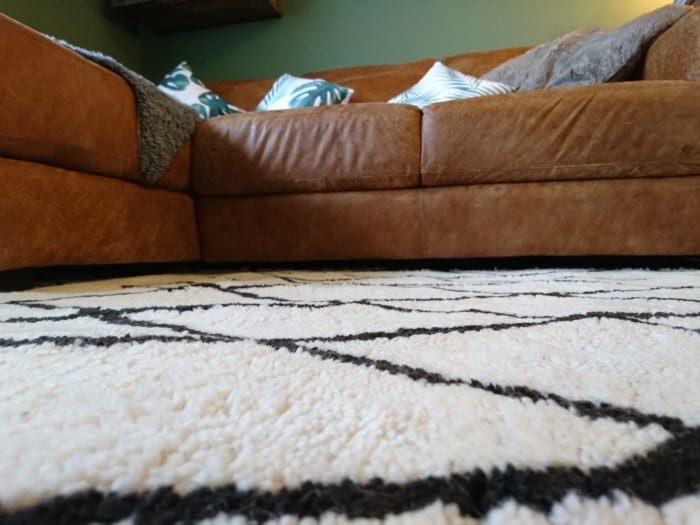 The final touch in our mini living room makeover is our new rug from Modern Rugs. It was a really hard choice given the fact that there are just so many options available on their website. I've been a fan of Berber style rugs for a while now so I started by searching for that.
I love the simplicity of the North African tribal designs and I knew that this style of rug would compliment our living room perfectly. I opted for the Berber rug in Nile Cream and Charcoal. We went for the largest size so that it would completely fill the space that the sofa occupies and help to section off this cosy nook area from the rest of the room.
I was really surprised by the quality of the rug. The pile is so deep and it feels so cushioned underfoot. It makes sitting on the floor to play with the kids that much more comfortable. I've even enjoyed the odd reading session on the floor.
Getting a new rug is a great way to instantly refresh a room and give it a new look. I'm so pleased with the way our living room looks thanks to our new addition. I would definitely recommend a look at the extensive options available at Modern Rugs if you're in the market for a new rug.
So there you have it. Our mini living room makeover in all its glory. I love spending time in here and it feels really cosy and homely. It may have only been a few small changes but it really has made the world of difference. It feels a lot more like the space reflects us now and who we are. It feels a lot more adult, if you know what I mean?
I'd love to know what you think. Is it an improvement? Did we make the right choice switching out the magnolia for the green? What about the gallery wall? Do you love that sofa as much as we do? And does that rug make you want to take your socks off and rub your toes in the deep pile? Let me know your thoughts guys in the comments!
PS. If anyone knows where I can get a stylish carbon monoxide detector please, please let me know. I'd love to replace that monstrosity with something a little less obtrusive.
---
Disclosure: This is a collaborative post. I approached Modern Rugs and Desenio to work with me on this post and was kindly gifted the products to help me create this makeover. I was also gifted the sofa from DFS. Some of the links in this post are affiliate links (Shown with an *) and therefore I will earn a small commission should you click through to the website and make a purchase.